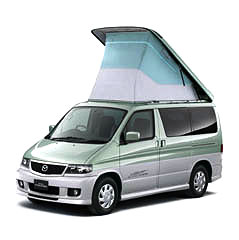 The Mazda Bongo Friendee or Ford Freda make an ideal campervan with their high specifications, compact size and cost
The standard equipment is high spec with an electric lifting roof (Auto High Top) and electric blinds on most models. The more standard features are front and rear air conditioning, power steering, electric mirrors and electric windows.
Simply press a button and the elevating roof opens automatically to create an additional bedroom for two. The inner roof platform can be pushed upwards allowing maximum headroom with a skylight above and a smaller hatch for access.
The Mazda Bongo is a 4 berth with 4, 5 or 6 seat camper conversion which provides a blend of an everyday user-friendly people carrier which is economical and compact enough for day-to-day use, days out, school runs and supermarket trips.
It transforms into the perfect family camper for days out, weekends away and camping holidays.
The Bongo conversions can be either a traditional 4 or 6 seat side layout giving maximum headroom.
Motorhome Awnings for Bongos
Motorhome awnings can either be purely for shading the sun or sleeping in. The larger ones are a great for storing your kit on camp whilst freeing up the space in your Bongo for day trips.
More about Motorhome Awnings for the Mazda Bongo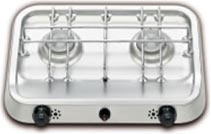 A SMEV burner, a popular popular choice in Bongo conversions