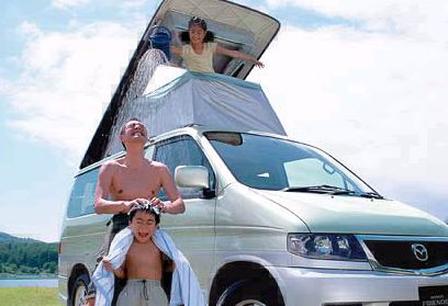 Your guide to the most versatile campervan
You can now connect to us on Facebook and Twitter.
The Bongo is officially called a MazdaBongo Friendee or Ford Freda, and is a multi-purpose vehicle (MPV) and weekend camper which is gaining popularity due to its versatility – it is equally at home as a van, campervan or people carrier.
Mazda version
The Mazda Bongo Friendee was introduced in 1995 and was based on a people carrier.
Ford version
The Ford badged version began selling in the Japanese home market as the Ford Freda.
The standard equipment is of a very high specification on most models:
electric lifting roof (Auto Free Top)
electric blinds
climate control / air-conditioning
power steering
electric mirrors
---
Mazda Bongo Friendee 95-00 Owners Handbook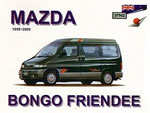 If you own a Mazda Bongo 95-00 that you have imported from Japan or a Mazda owners handbook that you cannot read, then this manual is for you. It covers the Mazda Bongo 1990-2000 vehicles. The Mazda Bongo Friendee Hanbook is a translated copy of the original Japanese Mazda Bongo Friendee Owners Handbook and ideal for those who may have either lost their original handbook or found that their owners handbook is written in Japanese. Click here to buy at Amazon
There is also a Mazda Bongo Workshop Manual available for those who want to service or repair their own Bongo.
---
The Mazda Bongo Friendee van SGL, is an eight seater MPV. Some already have had Mazda factory fitted rear kitchens installed, but many others are imported to the UK and converted
into campervans. All of them have fold down seats downstairs to make a double bed, and on many models there is also an 'Auto Free Top' elevating roof which can sleep a further two people.
Flat-top Bongo versions are also available affectionately known as Bongolows!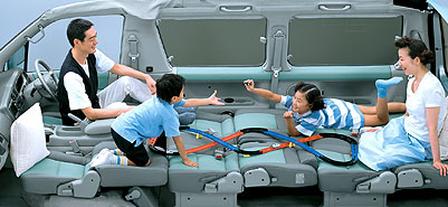 Launched in 1995, they usually have automatic transmissions with a few manual transmission versions available, and come in 2WD (SGL3) and full time 4WD (SGL5) versions.
The Bongo engines most commonly is a 2.5 turbo diesel engine with a few 2.5 V6 petrol versions and 2.0 petrol available.
Later (post-1999) models have a revised bodystyle and have different engines, although the 2.5 turbodiesel continues unchanged.
Air conditioning, cruise control, climate control and electronic blinds are fitted as standard.