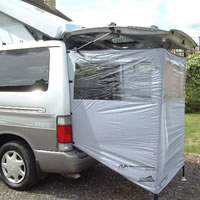 Extra space for your Bongo
Awnings are great for creating an on-site base while camping for more than one night or simply adding a bit more space on a short stay whether on a campsite or by the beach. Awnings create extra living or stand alone storage space, so you can drive your Bongo off and not lose your pitch. Some awnings have an optional inner tents in case guests arrive. There are also tailgate awnings which serve as windbreaks or an extension.
Buying Bongo awnings
Ebay is a good start for buying your Bongo awning since various traders are advertising there and you can compare prices easily. Alternatively try your local motorhome or caravan shop – they may stock them or be able to order them in.
Classic Motorhome Annexe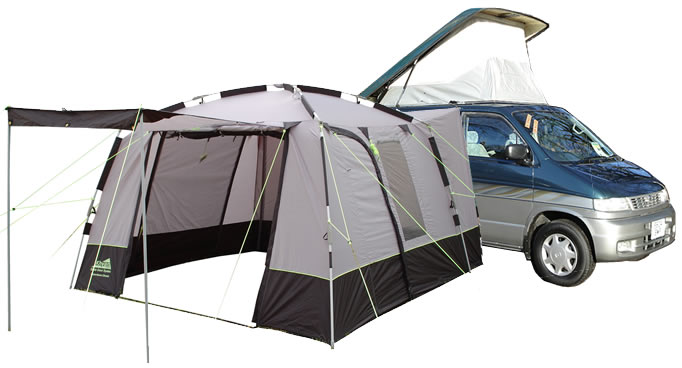 Classic motorhome annexes are free standing, made from canvas and steel poles with rigid construction. Strong and durable, they are good if you want one to last but are heavier as a consequence.
Pros
Free standing
Durable construction
Cons
Slower to put up
Heavier
Longer drying time
[hr]
Quick Erect Free Standing Awning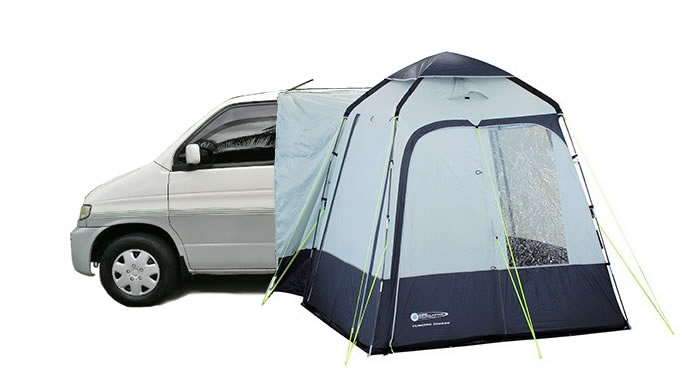 These awning are quick to erect so are ideal for over night stays where more room is required. Most quick erect awnings can be pitched in seconds, so the usual hassle of pitching and taking down a traditional awning is removed. Khyam produce the Khyam QE Caravan and Motorcaravan Tents suitable for Bongos.
Pros
Quick to erect
Quick to take down
Cons
[hr]
Sun Canopies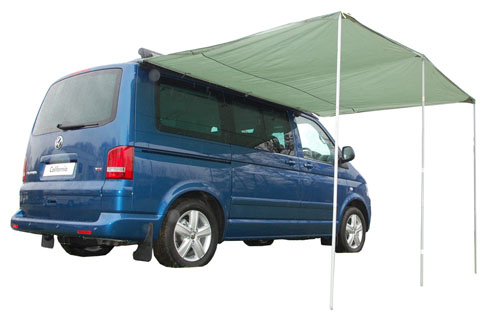 Sun Canopies are simple and quick to fit and are suitable for Mazda Bongos. Sun Canopies come with steel poles and are easy to erect and are ideal for those sunny afternoons around the campsite. Kyam Sun Canopy is a good choice.
Pros
Quick to erect
Quick to take down
Cons
Not suitable for heavy rain
[hr]
Case awnings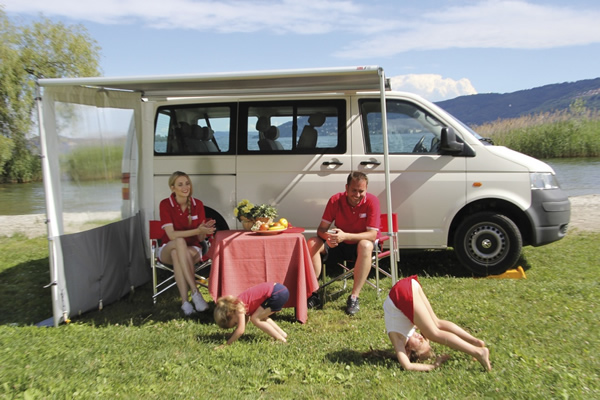 Case or roll-out awnings are fitted to the side of your Bongo and pull out rather like a roller blind. Case awnings require mounting brackets. Case awnings for motorhomes offer plenty of shade with low weight. They can double the living space of your Bongo in less than one minute. They offer cool and covered open space outside and lower the temperature inside your Bongo. Wet gear can be taken off outside in order to avoid bringing mud and dirt inside your Bongo. Fiamma F35 or F45i 2.5m awning is a good choice for your Bongo.
Pros
Low weight
Quick to put up – less than a minute!
Cons
Have to be put down if you drive off
Fixed to your Bongo
[hr]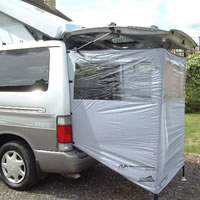 Tailgate awnings
Tailgate awnings attach to the rear tailgate of your Bongo. They are simple to fit and erect, light weight, and give you extra space at the rear of your Bongo. The tailgate awning acts as a windbreak, ideal if you have a rear Bongo camper conversion or if you need a stand up changing room for activities such as water sports, walking or fishing. Works well if you want extra ventilation but still retain your privacy. Usually with spring loaded legs, making it easy to pitch on any surface, even or uneven. Khyam produce a tailgate windbreak awning for Bongos which is more akin to a windbreak shown above.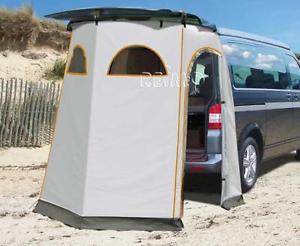 Reimo version is a little bit more sophisticated.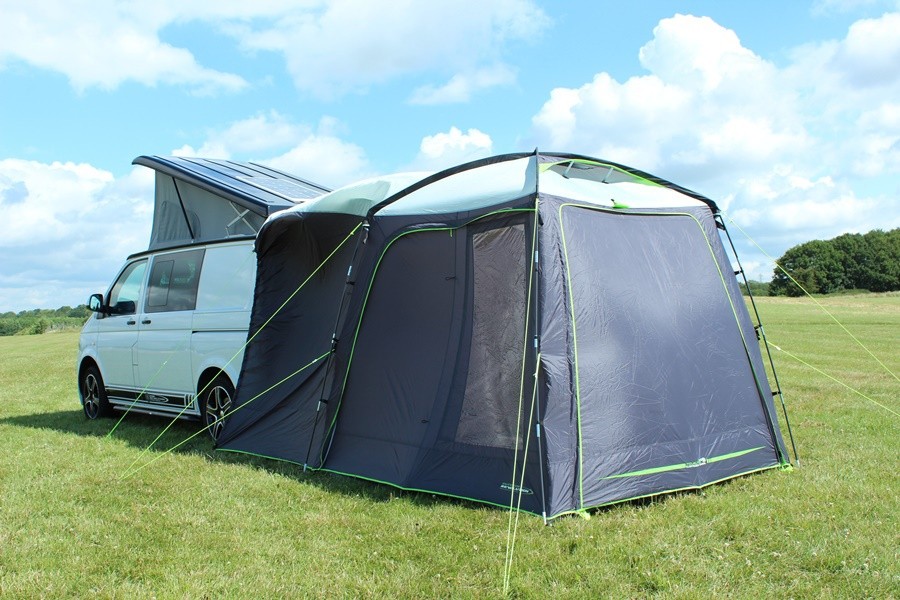 The Outdoor Revolution Cayman is a larger tailgate awning and can be kept up if you want to drive off.
Pros
Simple to fit
Light weight
Good for a changing room
Cons
Restricted to size of tailgate
Some models have to take down when driving off
Brands/Manufacturers
Khyam
Reimo
Outdoor Revolution
[hr]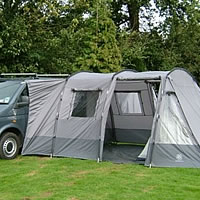 Tunnel awnings
Tunnel awnings use flexible poles to create a tunnel shaped tent. A good choice for Bongos is the Royal Traveller Motor Annexe.
Pros
Free standing
Lightweight
Self contained
Cons