Buy the English version online
Mazda Bongo WL and WL Turbo Engine ONLY Workshop Manual.
The WL and WL Turbo Engine is used with Mazda Bongo imports. It covers disassembly, inspection, repair and re-assembly procedures of the engine.
Bongo Friendee Service Manual – all vehicles from 1995 to 2003
Buy the Mazda Bongo Friendee Service Repair Manual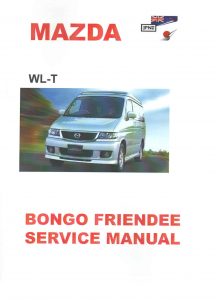 Paperback: 332 pages
Publisher: JPNZ International Ltd (1 Nov 2006)
Language: English
ISBN-10: 1869762215
ISBN-13: 978-1869762216
Size: 28.2 x 20.4 x 2 cm
Fully translated Mazda engineer's manual covering all vehicles, including the Ford Freda, from 1995 to 2003.
Does NOT cover petrol engine models.
It includes full diagnostic diagrams and maintenance procedures.
Topics covered
Engine
Cooling systems
Fuel and emission systems
Engine electrics
Clutch
Axles
Transmission (automatic and manual)
Steering
Prop shaft
Brakes
Wheels
Tyres
Suspension
Interior Equipment
Not covered
Chassis electrics
Body
Trim
Heating
Aircon
Buy BONGO SERVICE MANUAL